Sandwich Platters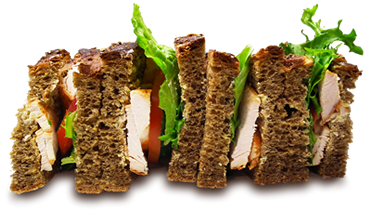 All our platters are produces early in the morning for lunch or afternoon deliveries.
We source the best quality products from our nominated supplier list ensuring we use the freshest products at all times.
Where we can, we will use biodegradable packaging and these are sealed in film to ensure total freshness. Our product then leaves our chilled production area and is delivered to you in one of our chilled vans.
Also available mixed platters to include the following - Sandwiches, Baguettes, Wraps, Rolls, Granary Rolls, Snack Rolls.
Traditional - Platter 1
Selection of white and wholemeal bread fillings including:
Ham and Tomato
Chicken Coronation
Egg Mayonnaise
Tuna Mayonnaise
Cheddar Cheese and Pickle
Harvester - Platter 2
Harvester Bread fillings including:
Roast Chicken Salad
Mature Cheddar and Balsamic Onions
Prawn Marie Rose
Honey Roast Ham Salad
Egg and Rocket
Roast Beef and Arran Mustard
Speciality - Platter 3
Chicken Chorizo and Roasted Red Peppers on Tomato Bread
Avocado and Bacon on Farmers Bread
Pastrami Gherkins and Mustard Mayo on Malted Bread
Smoked Salmon and Soft Cheese Malted Bread
Brie and Cranberry White Bread
Harvester - Platter 4
As Harvester but also with a selection of Open Sandwiches including;
Smoked Salmon and Cream Cheese
Thai Wraps
Chilli Beef Wraps
Egg, Guacamole and Tomato Wraps
(1 rnd sandwiches/2 wraps/2 open sandwiches per person)