Sandwich Platters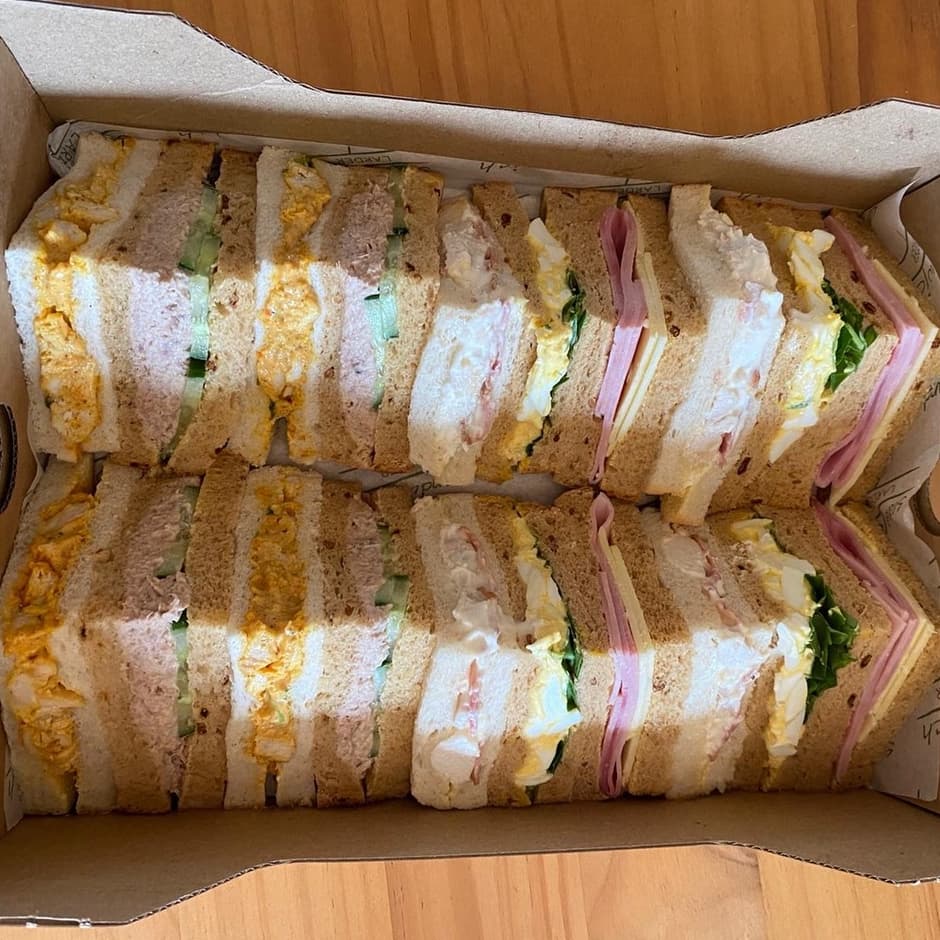 All our platters are produced early in the morning for lunch or afternoon deliveries.
We source the best quality products from our nominated supplier list ensuring we use the freshest products at all times.
Where we can, we will use biodegradable packaging and these are sealed in film to ensure total freshness. Our product then leaves our chilled production area and is delivered to you in one of our chilled vans.
Also available mixed platters to include the following - Sandwiches, Baguettes, Wraps, Rolls, Granary Rolls, Snack Rolls.
Traditional - Platter 1
Selection of white and wholemeal bread fillings including:
Ham and Tomato
Chicken Coronation
Egg Mayonnaise
Tuna Mayonnaise
Cheddar Cheese and Pickle
£4.30 per person
Harvester - Platter 2
Harvester Bread fillings including:
Roast Chicken Salad
Mature Cheddar and Balsamic Onions
Prawn Marie Rose
Honey Roast Ham Salad
Egg and Rocket
Roast Beef and Arran Mustard
£4.95 per person
Speciality - Platter 3
Chicken Chorizo& Roasted Red Peppers on Tomato Bread
Avocado & Bacon on farmers Bred
Pastrami Gherkins & Mustard Mayo on Malted Bread
Smoked Salmon & Soft Cheese Malted Bread
Brie& Cranberry White Bread
£4.85
Mini batch rolls 3 per portion £3.90
Flat Breads £ 4.84
Also available mixed platters to include the following - Sandwiches, Baguettes, Wraps, Rolls, Granary Rolls, Rustic Baguettes, Snack Rolls. Malted Bloomers
Breakfast
Danish Pastries £1.62
Pancakes £1.65
Fruit Scones £1.65
Scones £1.65
Croissants £1.92
Yoghurts £1.10
Mixed Breakfast Platter (Pancakes, scones, fruit scones, butteries, jam & butter) £3.02
Fruit
Fruit Basket £1.54
Fruit Skewers £1.54
Fruit Platter Small 5-7 people £12.10
Large 10-15 £19.25
Cakes/Treats
Tray Bakes £1.50
Muffins £1.60
Cakes £2.75
Cookies £1.54
Home Made Fudge £1.65
Brownie Bites £1.65
Extras
Sausage Rolls £1.43
Quiche £1.65
Chicken Skewers £1.65
Prawn Skewers £1.60
Pakora £1.48
Samosas £1.48
Vegetable Kebabs & Dip £1.65
Crudities £1.65
Crisps large £2.53
Crisps small £0.94
Soup £1.63
Drinks
Cans of Juice £1.10
Still/ Sparkling Water (0.5 Litre Bottles) £1.10
Fruit Juice (1 Litre Cartons) £2.42
Still/Sparkling Water (1.5 Litre Bottles) £2.42
All prices include delivery, disposable plates and napkins
Drinks can also be ordered along with our fresh daily soup.
We will be happy to supply menus for any type of function or occasion.
Our menus are merely a guide – we would be happy to cater for any requirement
All prices are exclusive of VAT